A couple months ago, I was the lucky winner of Curvy Wordy's giveaway and was to be treated to a bra set of my choice. As I had never been in a Freya bra before, I didn't know where to start. I was corresponding with a representative and found it was impossible to find a boutique around where I lived that carried Freya. The lady was kind and courteous, always getting back to me quickly and doing her best to solve this dilemma. She decided that it would be best solved by sending me a few different bras to try on. One of them was a Gem–review later–and two of them were of this Carys.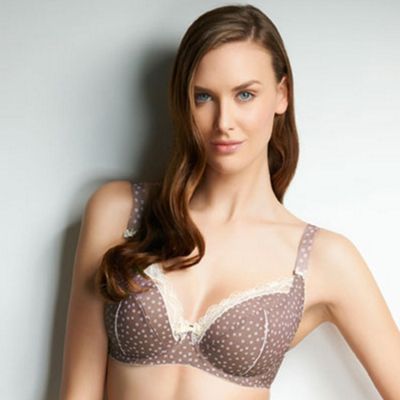 I was sent a 30J and a 30H as my sizes–estimated–in other brands were near those.
The material is mainly polyester and a mixture with elastane and nylon. The cups aren't molded, but they aren't like other sheer cups I've come across. They are certainly more sturdy and create a more rounded shape.The straps are fully adjustable and an inch wide to help from it cutting into your shoulders painfully. It has three hook-and-eye closures with three rows. The wires themselves are very sturdy shaped in a perfect hemisphere for support.
The color on the bra isn't the best, in my opinion. It's too…dull for my skin tone and doesn't compliment it at all. There are small dot-like follows that I think go along with it fairly well and as seen in the picture above it doesn't look all that bad. With the lace detail along the trim and the bow, I think it's a cute bra, but not for dark-colored skin woman or olive toned like myself.
I will start with the 30H
As you can see, it was much too large. I had large gaping in the side and the cups were all around too large. I didn't have any wrinkling at the bottom, as you can see. I'm sure that is because of the fact I had so much space my breasts could sink straight down. The top of the cups wrinkled and went far too high and covered way too much.
I'm not a fan of the 'east and west' shaping I get and certainly do not like that the cups are spread me in that direction. I prefer my breasts to be projected forward with an 'oomf' factor. I had no problem with the cup material on my skin and I liked the smoothness of it. While it's not seamless and is visible under a shirt, I'm not all against it or find it a con.
I think other than the cup size, the other problem was the band. I could snap it on the first hook easily and still tug at it. My preference for bras is that they are snug as can be without cutting off my breathing. I do think that this was a true 30 band, only I like my 28s over anything else.
Now onto the 30J
Whew…with this one, it's a lot more obvious. It's a whole two sizes bigger than the previous and it shows! The last picture is of raising my arms and the room that's there is unbelievable. There isn't much to say that I haven't already. The cups were too large, they cut into my underarm and wrinkled in the bottom and at the top. While the material did give a nice rounded shape, my breasts were too far apart and too covered while also too small to fit into the cups. The band was just the same, a bit too large for my preference, but a 30 by its standards.
My estimation, if I wore this style of bra, would be a 28GG/H. While the cups still might cover too much for my preference, I think the shape would be well enough that I might get past that. Although, even with that in mind, the coloring is so terrible on my skin that I think I would pass this bra up all together.